Welcome to the 2018 North Florida Marine Science Symposium!
Join researchers, resource management agencies, and students for 11/2 days of cutting-edge marine science – right next to the sea! This year the symposium will be on the Atlantic coast at the UF Whitney Lab for Marine Bioscience, just south of St. Augustine, FL. The symposium will kick off with oral research presentations on Thursday afternoon, a gallery-style poster session and social on Thursday evening, a keynote address on Friday morning (see details below), continue with oral presentations throughout the day on Friday, and finish with a BBQ social and student award ceremony on Friday evening.
The poster session and keynote address are free and open to the public!
Registration for undergraduate Marine Science majors is free!
Dr. Joan M. Bernhard of Woods Hole Oceanographic Institution a will present the keynote address: 
Symbionts and Kleptoplasts and Peroxisomes, Oh My!
Foraminiferal Chemocline Adaptations and their Geological Implications
Whitney Lab for Marine Bioscience in Mainland, Florida
Attendees at the North Florida Marine Science Symposium discuss the latest marine research during the poster session.
2018 North Florida Marine Science Symposium
January 25th & 26th 2018
Call for Abstracts
Abstract deadline is Friday January 5th, 2018
Abstracts can be emailed to NFMSS@ifas.ufl.edu
Final abstracts for oral and poster presentation are due January 5th 2018 and can be emailed as a MS Word document to NFMSS@ifas.ufl.edu following the format template below. It is possible that we will have more request for oral presentations than we have space this year. If you request an oral presentation but we run out of spots, we will ask you to present a poster. Spaces will be filled in order of submission. Oral presentation will be 12 minutes with 3 minutes for questions. Posters should be 48" width x 36" height.
We hope to see you at the Whitney Lab.
Don Behringer -Chair NFMSS (behringer@ufl.edu),  Robert Ahrens – co-chair NFMSS (rahrens@ufl.edu),
Abstract format please use TIMES NEW ROMAN
Presentation title – Use 12 point, bold. Capitalize only the first word and proper names.
Authors – Use 12 point. List author names with commas between. Underline the presenting author. If the authors have different affiliations, give a superscript number following each author name.
Affiliations – Use 10 point. If the authors have different affiliations, before the affiliation give a superscript number.
Corresponding author – Use 10 point. Name and email address
Abstract – Use 12 point. No more than 250 words
Presenting author status – Use 10 point. Undergraduate student or Graduate student or Non-student. Note that to be considered for student awards you must have Undergraduate or Graduate
Presentation type – Use 10 point. Oral or Poster
Example:
So a human (Homo sapiens) ate your lobster (Panulirus argus).
Robert Ahrens1, and Don Behringer1
1Fisheries and Aquatic Sciences, University of Florida, Gainesville, FL.
Corresponding author email: Robert Ahrens rahrens@ufl.edu
Documented interaction between humans and lobster are common. We present an analysis of high speed video for a carapace crushing interaction between a human and lobster at a restaurant in the Florida Keys. Relative attack and avoidance trajectories suggest that lobsters adopt a 'play dead' strategy to avoid predation. This strategy proved suboptimal and likely results in high predation rates.
Presenting author status: Non-student
Presentation type: Oral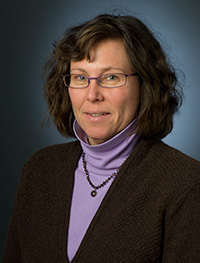 Dr. Joan Bernhard is a Senior Scientist in WHOI's Geology & Geophysics Department where she currently holds the Robert W. Morse Chair for Excellence in Oceanography.
Bernhard is an expert in benthic foraminiferal ecology and biology. Foraminifera are unicellular eukaryotes (protists) often with a mineralized "test" (shell) that is commonly preserved in the fossil record; the oldest bona fide foraminiferal fossils are Cambrian, but the group likely evolved in the Neoproterozoic. She began studying fossil foraminifera in organic-carbon rich deposits while pursuing an MS in Geology at UC Davis and then included benthic foraminiferal ecology and physiology studies in her PhD research in Biological Oceanography at Scripps Institution of Oceanography. During postdoctoral work at the Wadsworth Center (New York State Department of Health), she began investigating foraminiferal cell biology. She typically conducts laboratory experiments in an effort to determine the impacts of environmental changes on benthic foraminiferal survival, cellular responses and carbonate geochemistry. She is particularly interested in foraminifera inhabiting the oxycline, where oxygen can be absent while significant concentrations of sulfide can exist.
Dr. Bernhard co-edited a book on anoxia and another describing methods to study living foraminifera. Her past studies include extant foraminifera from Antarctica, Bahamian stromatolites, cold seeps, the deep sea, silled basins and fjords. At the North Florida Science Symposium, she will lecture on benthic foraminiferal adaptations to chemocline living, including cell biology and ultrastructure, denitrification, and symbiosis with prokaryotes and sequestered chloroplasts, relating relevant observations to the geological record.
Coming Soon
Dr. Joan Bernhard
Woods Hole Oceanographic Institute